A Matter of Harmonizing Innovation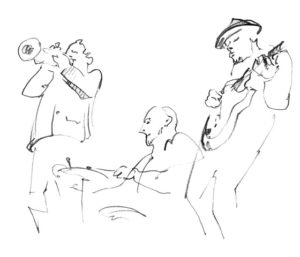 A systematic approach to innovation means not only a process for getting to a product but also a process that creatively hears and synthesizes the voices of the different disciplines within a system of true cross-functional teams. Systematic innovation, having this creative trait (which integrates the many different disciplines), has the power to transform numerous companies and lives in the process. This is like individual notes that combine into a chord.
I believe that serious changes in that system are necessary to develop a common language which will allow these different voices to combine. Even the smallest barbershop quartet has different voices that blend. A jazz trio similarly finds a way to bring together the different sounds into a harmony that we call music. I suggest that teams explore how the adoption of a harmonizing approach to innovation would be beneficial. Is there a platform or tool or activity by which each discipline and its unique approach are brought together to identify approaches and suggest solutions?
Unfortunately, I have encountered a tendency to "Get out there and innovate! Come on… everybody's doing it, we don't want to be left behind!"
I believe that it is important to remember that innovation merely for the sake of appearing to be innovating is a deadly cycle. Keeping with our musical theme this approach is like stressing a single note rather than seeking out other notes that make a chord.
Instead, I believe that our best ideas are those that identify a specific problem and offer increasingly better options for solving that problem. The best way to identify solutions is to articulate them within the context of the system in which they will be implemented.
Consider the scale, system complexity and inertia inherent in each of our regulated industries. Innovators in the regulated sectors grapple with intricacies of the marketplace but are also aware of the importance of serving the common good. Creatively innovating within in a regulatory scheme takes on a different meaning when one recognizes that we make rules to protect that which we hold dear, that which impacts each one of us, that with which we ought to be more cautious. Rather than lamenting the regulatory scheme, I urge the innovator to embrace it. How you solve and navigate the regulations of a market are part of your competitive advantage.
Keeping in mind the regulated framework where your idea will live, consider these three questions:
What problem are we solving?
What has come before that is like our idea?
What is different about our idea?
Be sure to drop me a note and let me know what worked, what you are working on, or topics you'd like me to explore in future posts.
If you like what you are reading, please sign up for the mailing list so that you will stay on top of the latest.
You can sign up here.
Please share with your friends and co-workers.
Here's to you and all your harmonized innovation!