A Matter of CHIHULY Innovation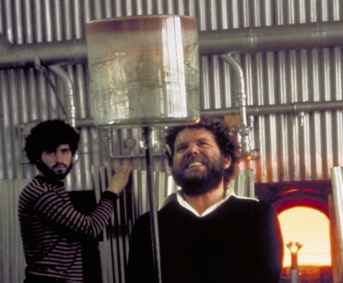 "Glass has the ability, more than any other material, to bring joy and a certain happiness to people" — Dale Chihuly
As I explain in an earlier post, A Matter of Looking Up Innovation, I am grateful that one of my oldest friends put Dale Chihuly firmly into my frontal lobe a few years back.  Because of that I was able to enjoy the Fiori di Como in Las Vegas and also Lime Green Icicle Tower in Boston.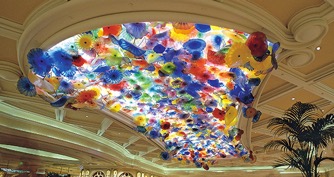 Reading more about the artist's life, I found myself reflecting on the basic steps he followed from student to artist to apprentice to master to innovator. What I found most interesting is how his journey mirrors so closely what I have seen with the thousands of innovators I have worked with in my career.
More thoughts bubbled up as I reflected on his background which I read about here www.chihuly.com.
By most happy coincidence, these are traits I hope to identify, nurture and teach within innovation ecosystems — like the one YOU are in!
Here are few points to spur your own reflections:
1. BE OPEN
What you love will find you.
Chihuly studied interior design at the University of Wisconsin. Somehow within the perfectly reasonable study of design and architecture, glass found Chihuly. I am encouraged every time something unexpected (and artistically enjoyable!) sneaks in to my day-to-day life. Open to the playful sparks of insight, of wonder, of imagination which will illuminate your inner creative paths. This same interior illumination will also light the spaces around your existing ideas — allowing them to also flourish.
2. LEARN THE BASICS
…and recognize the need for greater skills.
After graduation, Chihuly entered the glass program at the University of Wisconsin and, no doubt, learned important basic skills. A successful solo exhibit catapulted him from University of Wisconsin to Rhode Island School of Design (RISD). He continued to grow in his craft among the nascent glass community in the United States. He was even invited to teach in the RISD sculpture program after graduation. To his credit, he realized the importance of gaining even more skill, indeed 'mastery', in glass blowing before accepting a teaching assignment.
The next time a great opportunity is standing right in front of you… pause. Ask yourself whether this next move is applying skills you have or helping you to obtain those you need.
A rhythm of learning and application exists in the mastery of every skill. Like walking, we learn to place one foot and then the other.  So it is with learning and then applying new skills.
3. GO WHERE YOU WILL BE FED
Seek opportunities to further refine your skills.
For Chihuly, mastery in glassblowing meant only one thing: Venice. Chihuly wrote all of the leading glass factories. Alas, only one factory responded, but one was enough. Venini was one of the most progressive glassworks in Italy, and under the wing of Venini's director Ludovico de Santillana, Chihuly was able to observe and learn first-hand about techniques previously unknown or kept secret from the rest of the world.
At Venini, Chihuly also saw teamwork in action. Glassblowing is not a singular pursuit. Great pieces take shape through the manipulation of many diverse hands all under an umbrella of collaboration… for the piece… working together with the glass.
That's a great check list for any aspiring innovator:  Mentor? Check. Next level skills? Check. Opportunity to be close to the action? Check. Team with the other skills you lack? Check. Working together on one common goal? Double Check.
4. HAVE TWO DIFFERENT BOOK ENDS — STAND BETWEEN THEM
Drive inspiration by exploring communities with different backgrounds.
For Chihuly, his two favorite cities are Venice, Italy and Seattle, Washington. Both are centers for artists working with glass, but these cities stand in tension. Seattle is the practical, day-to-day simplicity of life alongside nature. Venice is exotic architecture and extravagance.
The next time you are headed to a working group or brainstorm session, step back and ask: Who represents Seattle? Who brings the flash of Venice? If you are missing one of those voices, you are missing sources of inspiration. Consider including someone who does not have that background as the core group or someone from another division … or invite the guy playing the banjo in front of your favorite coffee shop.
My hope for you is that your own style of innovation becomes the beautiful, magical glass you share with the world. I'll leave you with a riff off the Chihuly quote above:
"MY INNOVATION has the ability, more than any other ACTIVITY, to bring joy and a certain CREATIVE happiness to MY WORK and THE PEOPLE I WILL SERVE."
Here's to you and all the joy and certain creative happiness YOUR INNOVATION will bring to the world.
Don't miss out on any of my other hot, spinning, free flowing inspirations — be sure to sign up to keep up with all the innovation that matters!
Disclosure: Any inaccuracies or artistic projections are my own — and stem only from my recently acquired and budding admiration of his lifetime of community, work, skill and mentorship.